Many thanks to Christo Brand for sharing his story of life on Robben Island with Nelson Mandela and for being so patient in answering all our boys' questions!
With Robben Island as his backdrop, Christo Brand joined us on Teams in conversation with Andrew Russell to talk about the extraordinary relationship he struck up with Nelson Mandela both on Robben Island, and then when he was in charge of him at Pollsmoor Prison in Cape Town before his release.
As Cristo Brand pointed out, our one year of lockdown in our own home is perhaps put into a good perspective by Nelson Mandela's twenty-seven years in lockdown in prison.
One of our boys showing resourcefulness when he couldn't unmute to write his question down on a piece of paper about whether Mandela ever tried to escape!
Christo Brand's book about his friendship with Mandela.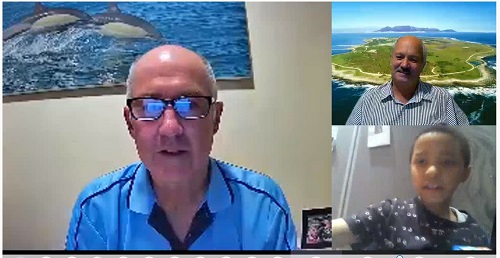 Well done to all the boys who asked the most wonderful and thought-provoking questions.
Christo Brand's final advice to the boys came from his favourite quote from Nelson Mandela.