Ensembles
In addition to providing the highest standard of individual music tuition Papplewick also boasts an impressive list of ensembles which cater to the many instruments played by our boys. Rehearsals take place on a weekly basis which work toward a variety of performance opportunities available during each term. Ensembles at Papplewick include Chamber Orchestra, Scholars' Ensemble, Junior Brass, Junior Strings, Wind Ensemble, Rock Band, Jazz Collective, Guitar Ensemble and Papplewick's Drum Line.
Chamber Orchestra
Our Chamber Orchestra performs at least three times a year and is rehearsed and conducted by Mr Parton. Recently the orchestra has performed a variety of classical hits by composers such as Mussorgsky, Haydn and Fauré whilst has also been called upon to accompany several chapel choir performances of songs by John Rutter. The Orchestra rehearses on Friday evenings and Tuesday mornings before school and is by audition only. A standard of grade 5+ is required.
Scholars' Ensemble
As its name suggests, this ensemble is the cherry on the icing of Papplewick's musical cake. Set up to provide potential senior school music scholars with the opportunity to perform high quality chamber music, this ensemble entertains at a wide variety of Papplewick functions. They have recently accompanied the school production of 'Bugsy Malone', entertained guests at the summer ball and performed externally as part of the Music Scholars' Soirée. Membership of Scholars' Ensemble is by invitation of the Director of Music.
Junior Brass *
Junior Brass is an open ensemble for all brass players at Papplewick to gather experience of playing together with others and to experience the fun you can have making music together. This ensemble is directed by Miss Ortony and performs an entertaining mixture of light repertoire at informal concerts and the summer concert. Junior Brass rehearse during reading on Tuesdays.
Junior Strings *
Directed by Mrs Hannah-Andersson, Junior Strings is a training ensemble for all budding string players up to grade 5. The ensemble helps string players develop key skills needed for ensemble playing such as listening, counting, intonation and concentration. Performing a selection of well-known classical hits, this ensemble is seen at big concerts and informal recitals. Junior Strings rehearse in the music room at Monday break time.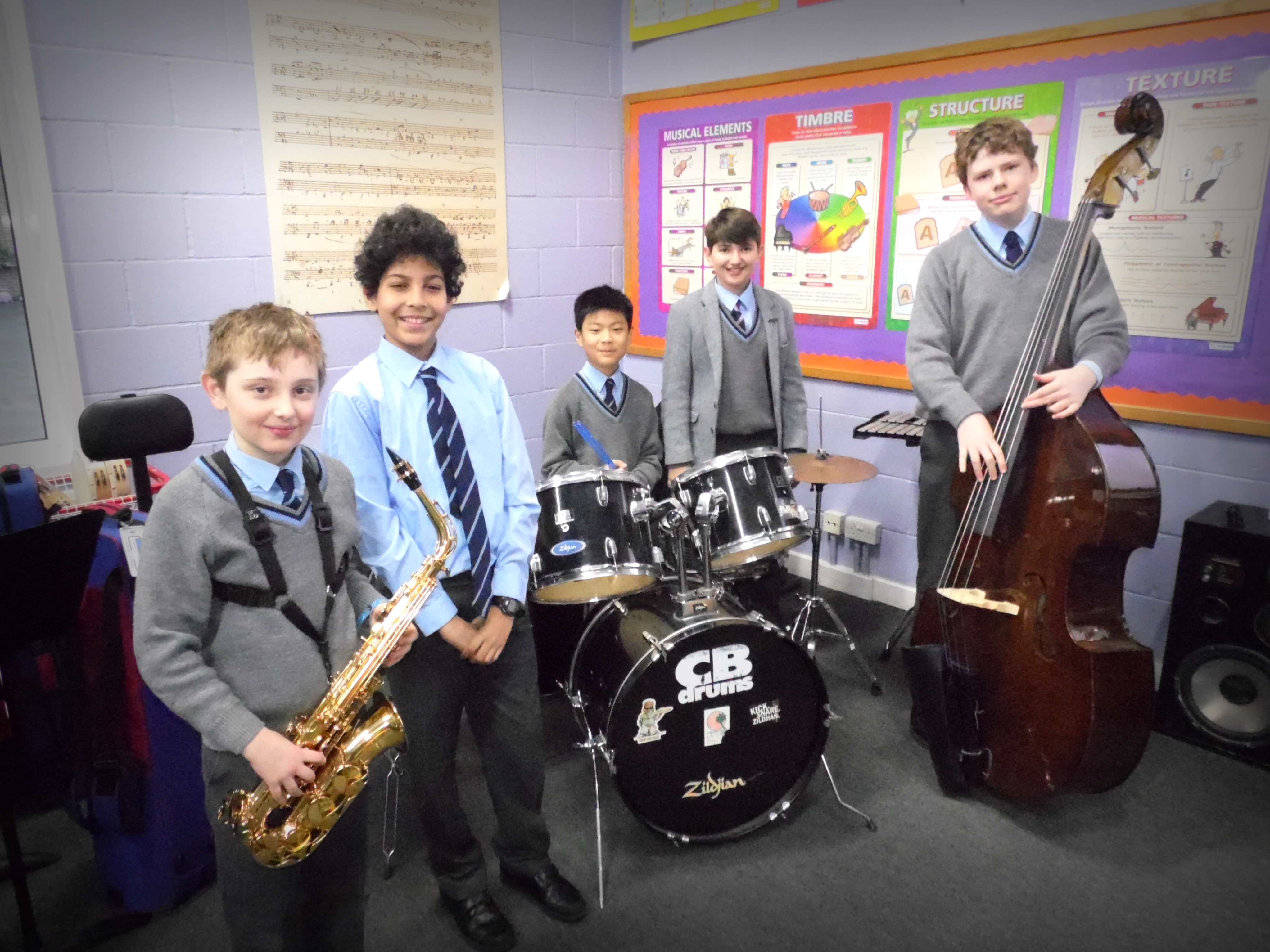 Wind Band
Directed by Mr Parton the Wind Band has performed such classic tunes as James Bond, Super Trooper and even some Lady Gaga! Rehearsed as an unpaid second activity on a Thursday, Wind Band is this place to catch some good old-fashioned musical mischief. This ensemble is open to all wind, brass and percussion students.
Rock Band *
Rock band is one of Papplewick's newest ensembles. Directed by Mr Jordan and Mr Du Plooy, Rock Band provides a safe haven for the next generation of Hendrix's, Grohl's and Mercury's! Major performances include the Contemporary Music Informal Recital and the Summer Concert. All singers, guitarists, drummers and keys players may apply however numbers are limited. Informal auditions may be held. Rehearsal sessions run on Tuesdays at break time.
Jazz Collective *
Papplewick's Jazz Collective introduces students to the basics of improvisation as well as the many musical conventions of playing in a chamber group style jazz ensemble. Learning popular jazz standards is an excellent platform to educate students about functional harmony and compositional structure. This enhances their theoretical knowledge in a fun and practical environment. The ensemble enjoys regular performances at concerts and events held in and out of Papplewick.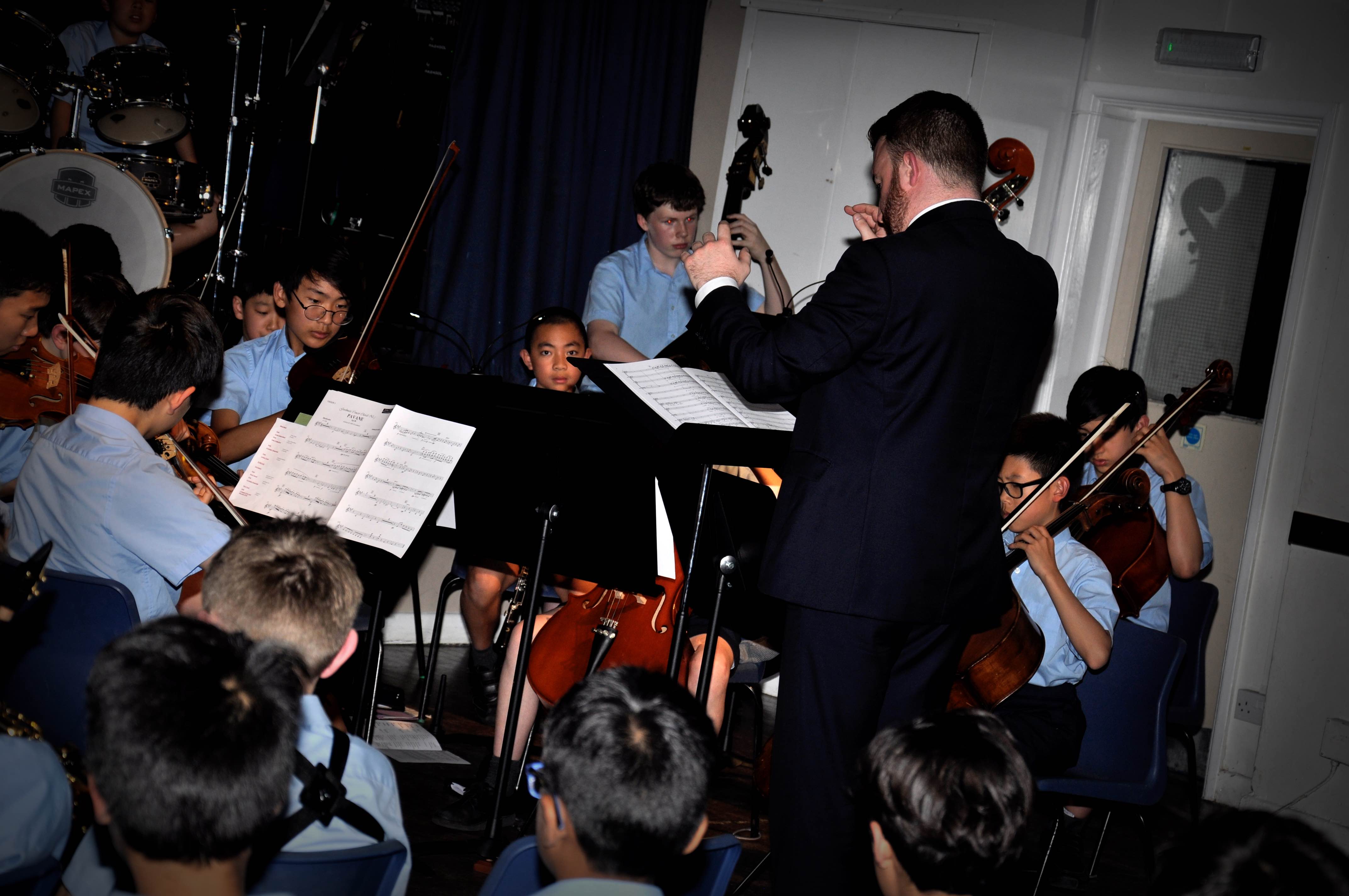 Guitar Ensemble *
New for September 2019 the Guitar Ensemble gives guitarists an opportunity to gain valuable experience of playing with others that can sometimes be overlooked on the guitar. With Mr Du Plooy at the helm the ensemble work through a variety classical and contemporary repertoire differentiated for each student.
(*) Paid Ensemble