Old Boys
Missing Old Boys - October 2015
If you have any Old Boys' news, please email it to the Old Boys' Secretary, Tony Sparshott, at sparsant@gmail.com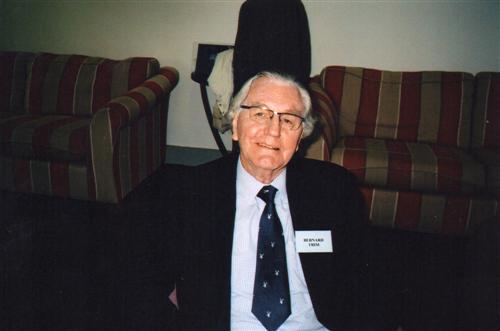 Bernard Trim, who returned to Papplewick for Old Boys' Day 2016. He was one of the nine boys who started when the School opened in September 1947.

Old Boys' Day 2016. Sunday 10th July
The weather for the cricket match v the HM's Xl on July 10th was overcast with a light mizzle for most of the morning session. The HM's Xl batted first this year, getting off to a good start, with their opening batsman retiring on 50 – only to don his pads once more when needed at the end of the innings and to ensure a respectable total of 170 for the Old Boys to reach. Both Jack Mather and Yunus Sert bowled well for the Old Boys, taking three wickets each fairly cheaply, thus keeping the score down to an attainable level. The weather improved markedly from lunchtime onwards, producing almost continuous hot sunshine, and W. Cowley (21), the Captain George Tysoe (28) and Yusuf Perwaz (39) kept our hopes alive up to 123-9, when the cause looked desperate. But Lewis Sullivan going in at 9 rose to the occasion scoring 50 runs while Duncan Thomson kept the other end going for over half an hour without scoring a run while the score gradually rose to 159 – when sadly Duncan's defences were worn down when we were only 11 runs short. It turned out to be an extremely exciting game in the end, thoroughly enjoyed by everyone.
James Brooks must be congratulated on gathering together seventeen Old Boys who, like him, left the School in 2006, ten years ago, and who returned to celebrate their time at Pappelwick. They added immensely to the atmosphere of what turned out to be a very successful day, full of happy reminiscences.
Another group also returned to the School on this day, consisting of eighteen Old Boys from the 1940s and 1950s, together with one member of staff from the 50s and one assistant matron. They had a wonderful time, full of laughter and happy memories. There will be a report on them in the next Newsletter, due out at the end of April 2017.
Looking For Lost Old Boys
Please would you check the following list of 'Missing' Old Boys and let us know of anyone who appears on it whose contact address you may know. If you have not been receiving the annual 'Old Papplewickian' by post, there is every possibility that you are either on the 'Missing' list, or that we simply do not have your name on our database.
Please could you contact Tony Sparshott to check? (sparsant@gmail.com). Many thanks.