Old Boys
Missing Old Boys - October 2015
If you have any Old Boys' news, please email it to the Old Boys' Secretary, Tony Sparshott, at sparsant@gmail.com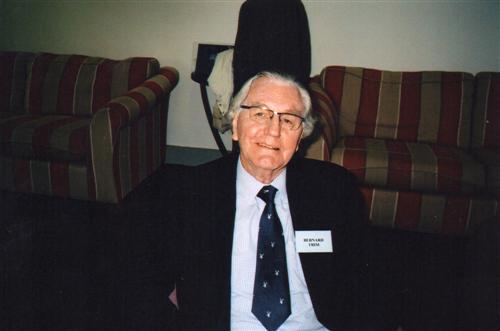 Bernard Trim, who returned to Papplewick for Old Boys' Day 2016. He was one of the nine boys who started when the School opened in September 1947.

Old Boys' Day 2017.
The 2017 cricket match v the HM's Xl on July 9th was played on a perfect day for cricket, on a hard pitch and with the sun shining throughout. Both teams were strong and a good game was promised. And so it turned out. The Old Boys batted first and tackled some aggressive bowling by determined batting from Will Western-Kaye and Jamie Roy, who scored 24 and 39 runs respectively. Another lengthy stand between Alex Avery (15) and James Brooks (50) and several other defiant innings ensured a reasonable score of 213 for the HM's side to face.

An early wicket encouraged the Old Boys, with the result that they caught and bowled well throughout the afternoon – though they met with considerable resistance along the way. Two opposition scores in the 40s and other attacking performances proved hard to overcome, but good bowling by Will Cowley (3 for 24) and Florian Caspers (3 for 10) kept the pressure up and the final wicket fell at 6 pm, giving the Old Boys victory by 32 runs.

It was very good to see the return of a sizeable number of Old Boys who left the School 10 years ago. Alex Avery did a good job gathering so many together and all those who returned had an enjoyable day catching up on news and visiting old haunts.
Looking For Lost Old Boys
Please would you check the following list of 'Missing' Old Boys and let us know of anyone who appears on it whose contact address you may know. If you have not been receiving the annual 'Old Papplewickian' by post, there is every possibility that you are either on the 'Missing' list, or that we simply do not have your name on our database.
Please could you contact Tony Sparshott to check? (sparsant@gmail.com). Many thanks.